Empire Graphics is a full-service Vinyl Decals & Printing provider with a wealth of experience and professional experts.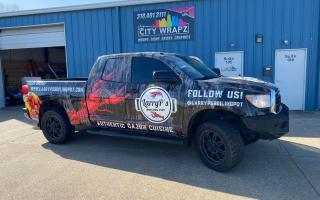 We specialize in producing custom decals and prints for a wide range of applications, from car wraps and stickers to signs and banners. Our professional staff is highly experienced in all aspects of Vinyl Decals & Printing, from design and layout to installation and maintenance. Our team of experts is committed to providing you with the highest quality products and services, ensuring your complete satisfaction with every project. With our commitment to customer service and satisfaction, you can trust Empire Graphics to provide you with an exceptional Vinyl Decals & Printing experience. Online services are available nationwide and physically to customers across Shreveport and Bossier City areas.
Our services include:
Vehicle magnets are an easy and effective way to customize your car and make it stand out. Empire Graphics offers high-quality and weatherproof vehicle magnets that are easy to attach and remove, making it easy to change your vehicle's appearance whenever you want. Our team of professionals can create custom designs to suit your needs, whether it's a company logo or a unique design. With our vehicle magnets, you can display your brand or message on your car without worrying about damaging the paint or leaving residue. They are a great option for businesses that frequently need to update their message or for individuals who want to add some personality to their car.

Vehicle window cut vinyl is a type of vinyl decal that is cut to the exact shape and size of a design or logo, and applied to a vehicle's windows. It is a cost-effective way to customize a car or truck with a personal touch or promote a brand or message. The vinyl is durable and resistant to fading, making it a long-lasting option for vehicle graphics. Vehicle window cut vinyl can be easily applied and removed without leaving any residue, making it a popular choice for temporary or seasonal promotions. Empire Graphics can create custom designs that are cut to the exact shape and size of your car windows, giving you a unique and professional look that sets your vehicle apart from the rest.

Building window cut vinyl is a type of vinyl decal that is custom cut to fit the shape and size of a building window. It can be used for a variety of purposes such as advertising, branding, or decorating. The vinyl material is easy to apply and remove, and can be designed with custom graphics and text to create a unique and eye-catching look. Building window cut vinyl is a cost-effective way to add a personalized touch to any building and make it stand out. The decal is also durable, weatherproof, and resistant to fading, ensuring it will look great for a long time.

Empire Graphics offers professional and high-quality vehicle spot graphics services that are perfect for businesses or individuals who want to promote their message or brand in a permanent and effective way. Our spot graphics can be applied to specific areas of a vehicle and are custom-designed to match your unique requirements. We use only the best cast vinyl materials that have an excellent durability and longevity, guaranteeing that your spot graphics will look great for years to come. With our professional team of experts and state-of-the-art equipment, we can guarantee fast turnaround times and superior results. Trust Empire Graphics to create effective and lasting vehicle spot graphics that will make your brand stand out on the road.

"Vehicle window perf" also known as one way vision film, is a specialized vinyl film that allows you to print graphics on the outside of your vehicle while still maintaining visibility from the inside. The film has tiny perforations that allow you to see through it while the exterior appears to be fully covered with a graphic or design. This is an effective way to advertise on your vehicle while still maintaining the driver's visibility. It is also long lasting and durable, able to withstand weather and maintain vibrant colors for extended periods of time.

Building window perf is a high-quality, durable, and versatile vinyl material that is designed to be applied to the windows of commercial buildings. It is also known as one way vision film, it allows for natural light to pass through while still providing a high level of privacy and security for the occupants. It can be cut to size, and printed with custom graphics or designs to enhance the appearance of a building and provide effective advertising for businesses. Building window perf is low maintenance and long-lasting, making it an ideal choice for businesses looking for an affordable, yet durable solution for their window graphics.

Floor decals are a type of adhesive vinyl graphics designed for use on floors and other flat surfaces. They can be used for a variety of purposes, such as for advertising, wayfinding, or safety messaging. Floor decals are typically made from durable, slip-resistant materials that can withstand foot traffic and are resistant to fading. The decals are easy to apply and can be custom designed to fit any shape or size. They are also easy to remove and leave no residue, making them a versatile and cost-effective solution for businesses or organizations looking to enhance the visual appeal of their space while promoting their brand or message. Empire Graphics offers professional design, production and installation of floor decals.