graphic design print shop
Northwest Louisiana's one-stop-shop for printing services 
Our in-house print shop produces world-class visuals for signs, commercial vehicle wraps, apparel, and all things design.

Commercial vehicle wraps in Bossier City, LA.
Empire Graphics is a commercial wrap designer conveniently located in Bossier City, near Ruston, Shreveport, Monroe, and Marshall.
What makes us different?
120 day
Installer Warranty
$ 11
Sq ft Starting prices
Process A Customer Can Expect
Welcome to Our Vehicle Wrapping Process!
Step 1 Consultation
Crafting Your Vision
At the heart of our process lies your vision. During your consultation, we take the time to understand your needs and preferences. We'll discuss your vehicle type, the type of wrap you desire, and even get a sneak peek of your design ideas. Your journey starts here.
Step 2 Design
Bringing Your Vision to Life
Now, let's bring your vision to life. Our talented designers will collaborate closely with you to create a wrap that perfectly complements your vehicle. We go the extra mile by providing proofs on real templates of your vehicle, so you can visualize precisely how your dream wrap will look.
Step 3 Production
Precision in Every Detail
Once you've given the green light to your design, it's full steam ahead. Our production team kicks into gear. We meticulously prepare your files and embark on the printing, cutting, weeding, and taping process. You'll also receive a schedule for your installation, keeping you informed every step of the way.
Step 4 Installation
Where Magic Happens
Now, it's time for the magic to happen. Your vehicle arrives at our shop, and our skilled installers take over. With precision and expertise, they meticulously wrap your vehicle, ensuring a flawless finish that turns heads wherever you go.
Step 5 Inspection
Perfection in the Sun
Before we hand the reins back to you, we want to ensure everything is perfect. We carefully park your vehicle in the sunlight and conduct a thorough inspection. Any imperfections are addressed promptly, guaranteeing that you receive your newly wrapped vehicle in pristine condition.
Your journey with us is not just a service
It's an experience crafted to exceed your expectations. Get started on transforming your vehicle today, and let's bring your vision to life
Who We Are
Empire Graphics is the nation's most creative provider of graphic vehicle wraps for businesses large and small.
Empire Graphics, located in all major cities nationwide, are your number one fleet graphic vehicle wrap designer and installer. Our vehicle wrap design specialists will work with you every step of the way, from choosing a design that will suit your needs to getting your car wrapped.
What We Do
Empire Graphics is the nation's most creative provider of graphic vehicle wraps for businesses large and small.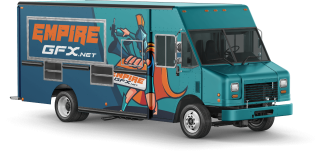 Brand Development
Let us build a comprehensive consistent brand for your entire fleet.
Rebranding Consultants
Already have a logo and are looking for an update? We have you covered.
Cost-Effective Vehicle Advertising
Not only making your vehicles recognizable but also effective in adveristing.
Reviews
What our customers say